About Us
Thank you for visiting the Cole County R-1 School District website. Our district is located in Russellville and also includes the cities/towns of Lohman; Moreau Township (Cole County); Clark Township (Cole County); Burris Fork Township;Marion Township (Cole County);Jefferson Township (Cole County); Walker Township (Moniteau County) and Harrison Township (Moniteau County). Download an enlarged Cole County R-1 School District Boundary Map.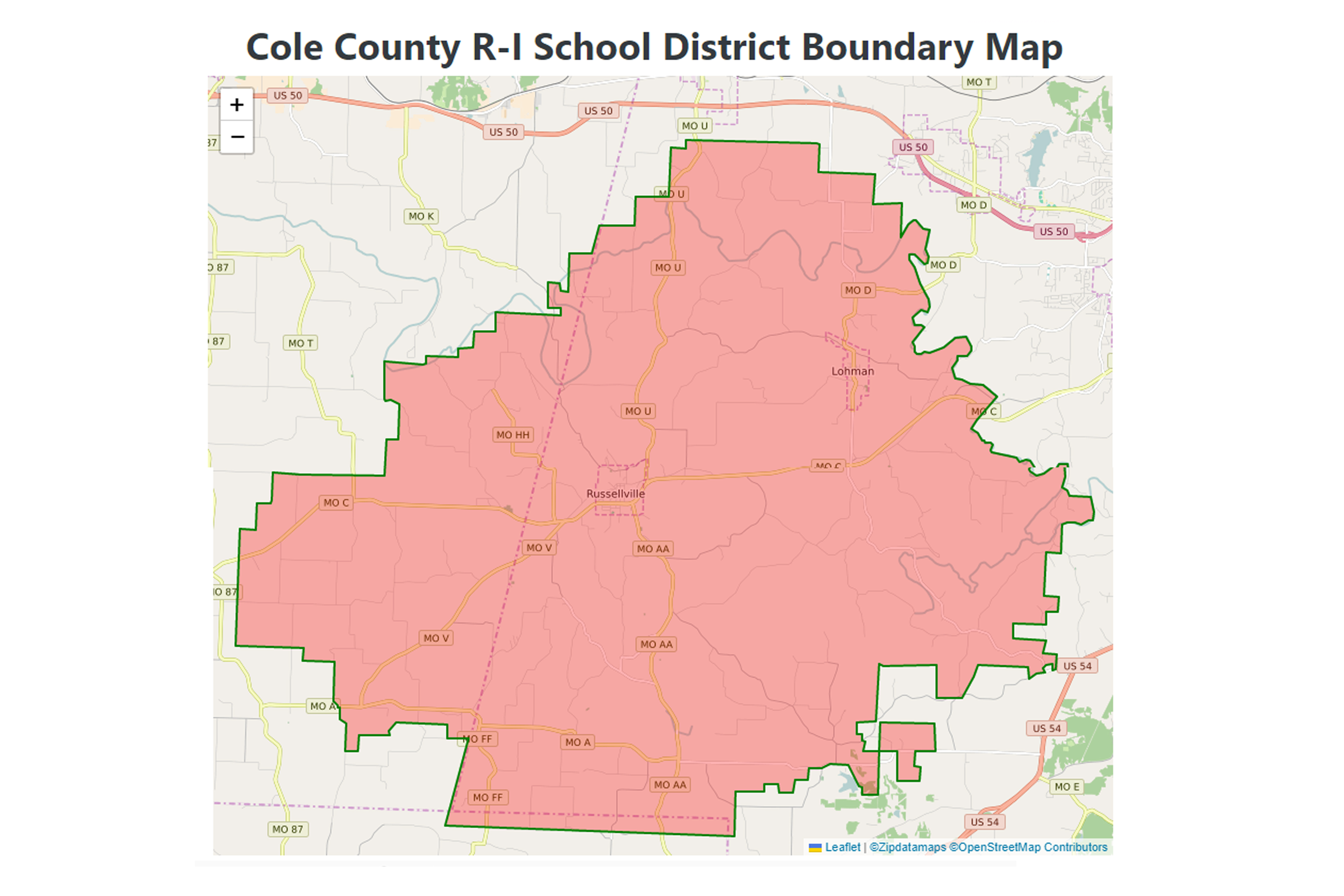 District programs include: A+ Program, Parents As Teachers (PAT); Parent/Teacher Organization (PTO), Preschool, After School Daycare, Special Education, National Honor Society, FFA, FBLA, Beta Club, Archery.
Facts and Figures
For the 2022/2023 school year, there were 618 students enrolled in PK-12 in the district. Our average testing ranking is 8/10, which is in the top 30% of public schools in Missouri. The district's average math proficiency score is 50% (versus the Missouri public school average of 35%), and reading proficiency score of 46% (versus the 45% statewide average).


Our Mission
Our mission is to educate all students and develop the foundation of tomorrow's community by expecting excellence today.
Our Vision
Cole County R-I is a partnership of staff, parents, students, and community with a vision of...
A school in which all students are challenged and empowered to achieve success through effort and hard work.

A school environment that is safe, respectful and engaging for all students and staff members.

A school where students practice problem-solving and critical thinking and engage with technology to become life-long learners and respected members of the community who take responsibility for their decisions.

A school dedicated to collaborative teamwork and best instructional practices through the use of a viable curriculum.
Professional Learning Communities (PLC) Commitment
Cole County R-1 has been a PLC school-improvement model since 2011. This model focuses on increasing student achievement by building the capacity of school personnel to create and sustain the conditions that promote high levels of student and adult learning. Commitment to and participation in training by school leaders is a vital component of becoming an effective professional learning community.
Professional learning communities see student learning, not teaching, as their mission. The policies, instruction, curriculum, programs, professional development, and other functions of the school all support student learning.
Cole County R-I schools have committed to continue the implementation of the PLC model. This means teachers, staff, and administrators are committed to successful learning for every student. Teachers focus on improving student achievement using regularly scheduled collaboration time. To allow for this collaboration to occur an early-dismissal time at 2:20 p.m. on every Thursday throughout the school year. Teachers clarify exactly what each student must learn and frequently evaluate their progress with formative and summative assessments.
They also ensure interventions are in place for those who need extra time and provide enrichment activities for students who have already reached the goals. Through best teaching practices and active learning, students are engaged in the learning process and are provided feedback about their performance.
Civil Rights Compliance
The Cole County R-I School District does not discriminate on the basis of race, color, national origin, sex, or age in its programs and activities.